We will be moving locations January 1st. Our new location will be at 2390 Tamiami Trail North, Suite 102-104 (located on the first floor of The Chamber Building)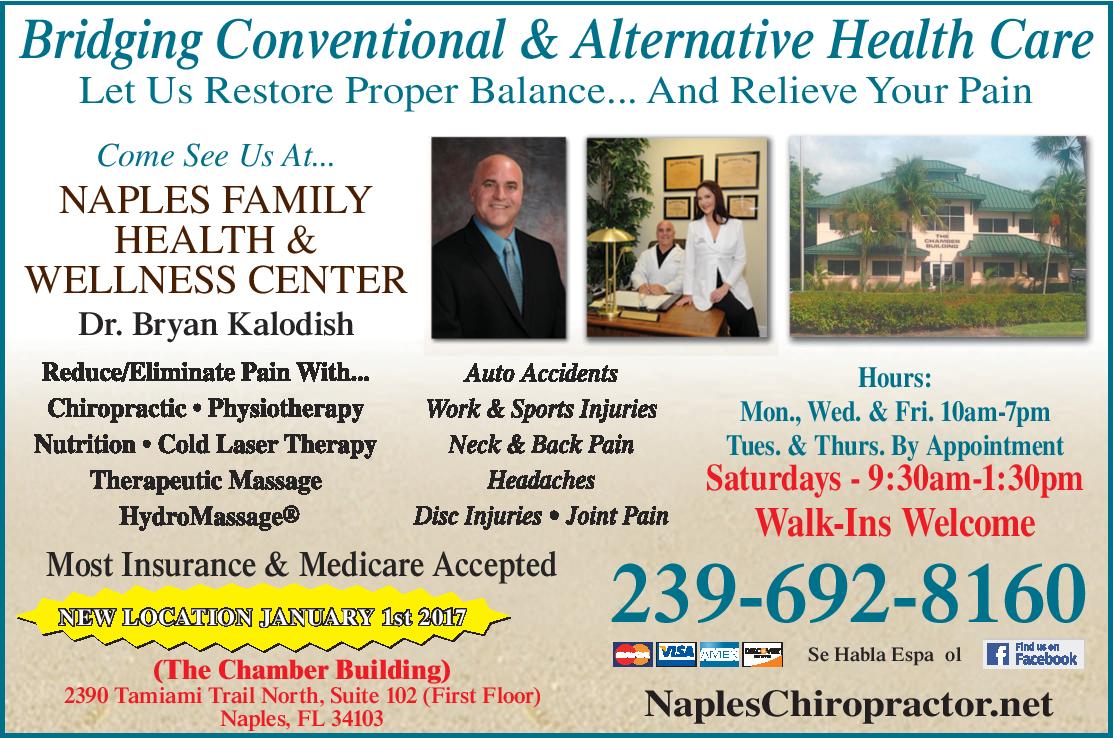 Naples Chiropractor
Thank you for visiting the website of
Naples Chiropractor Dr. Bryan Kalodish
and
Naples Family Health and Wellness
- a professional Naples chiropractic clinic. In practice as well as online, Naples Florida 34102 chiropractor Dr. Kalodish strives for excellence through superior patient treatment, education and satisfaction.
Within our website, Naples and surrounding area residents will find all types of health and wellness related information including information about our office and services, chiropractic, back and neck pain, work and auto injuries and much, much more.
We hope you enjoy the information within and share it with others. Again, thank you for visiting
www.napleschiropractor.net
and remember to come back often.
Chiropractic care is more than just making the pain disappear. It is about learning, understanding and taking care of your body to improve your quality of life.
We aim to educate our patients about Chiropractic and other natural solutions to common health problems in order to motivate you to take a more active and responsible role in restoring and maintaining your own health as well as the people around you.
As a chiropractor, we understand that although our patients may be diagnosed with the same condition, they respond very differently to treatments. For this reason, we tailor a specific plan of action to meet your needs, goals & unique medical and physical condition.
Finding a chiropractor who understands changing health care needs and the most current techniques and approaches to addressing health problems can be a daunting task. We invite you to stop by and learn about our gentle chiropractic care as well as the ways that it can improve the quality of your life.
Yours in health,
Dr. Bryan Kalodish, D.C.
Chiropractor